Weekly Message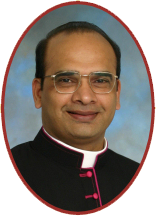 Life in Christ = Respecting Everyone
Dear brothers and sisters,
I wish you and your family a Joyous Easter!
We have been living '40 days respecting life' of one another. Now we are risen with Christ. As Jesus visited His friends and confirmed His respect and love we are guided to do so.
Scripture teaches us that Christians should honor or respect all men (1 Pet. 2:17); our neighbor is whoever God places in our lives. (Lk. 10:29-37) That is the baseline. Jesus loved Peter who denied him; the apostles who ran away; John who followed Him to the foot of the cross.
Jesus valued children very much and said, 'Let the little children come to me, and do not hinder them…" He blesses them; he placed the children as an example of humility and faith for adults. (Mk. 10:15; Mt. 18:2-4)
Jesus treated women with compassion and respect. Just in the Gospel of John alone we read about Mary, the mother of Jesus (Jn. 2:1-11; 19:25-27); the Samaritan woman at the well (Jn. 4:4-30); the woman taken in adultery (Jn. 8:1-11); and Mary Magdalene (Jn. 20:1-18). The apostle highlights the Savior's understanding of the varying circumstances of their lives, and he records the blessings that came to each woman because of her faith in Jesus Christ.
The following words will help you to energize your Risen life beginning from your family: "A woman loved by her husband will grow in loveliness. A man respected by his wife will become more respectable. Men tend to think of love as not giving trouble to others, but women think of love as taking trouble for others." Does it help you?
As Risen people, let us live respecting and loving one another always. They are loved and respected by Jesus!
May the Risen Jesus be with you, filling you with His peace. Alleluia!
Msgr. Xavier
For Pictorial Directory(click on the link below)
https://booknow-lifetouch.appointment-plus.com/yvdmbgzk/ [booknow-lifetouch.appointment-plus.com]

We have received "Best of Longview 2016 , 2017, 2018 & 2019"
(The Best Place of Worship Award - FOUR Consecutive Years)
This is our Parish Mobile App. St Matthew Longview (in Playstore or AppStore)
Please install it on your smart phone. Let us be in touch with us & the World! Thanks.