Weekly Message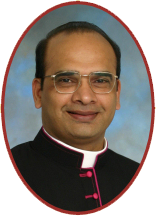 Does Jesus Divide Us?
Dear brothers and sisters,
The world today is a global village which is divided politically, economically, domestically; and by race, color, creed, language, etc. Human creates these divisions. Could these divisions be resolved? Not until our hearts and minds are united. Sounds impossible! Right?
Isaiah prophesied that Jesus is peace; he would bring peace. (Is. 9:6) The aged Simeon predicted that Jesus was "destined for the fall and the rise of many in Israel, and to be a sign that will be contradicted; so that the thoughts of many hearts will be revealed" (Lk. 2:34-35) It appears in stark contrast to other promises. The peace that Jesus gives and the peace that the world offers are two completely different things.
In Luke 12:51, Jesus declares that he did not come to bring peace but division! Jesus calling for repentance and conversion invites his listeners to choose consciously and explicitly to walk in God's ways and turn from evil; he points out that peace will be disturbed because of the ones who refuse to repent of their evil doings.
The division is not created by the prophets or by Jesus, it is a natural outcome of listeners making different decisions about whether to follow Jesus or not. Just so, Jesus declared "Whoever is not with me is against me." (Luke 11:23) We and our thinking divides us!
Aesop has a fable of three bulls that fed in a field together in peace and safety. A lion had long watched them in the hope of making prey of them, but found little chance so long as they kept together. He therefore began secretly to spread evil reports of one against another till he fomented jealousy and distrust among them. Soon they avoided each other and fed alone. This gave the lion the opportunity it had been wanting. He fell on them singly and made an easy prey of them all.
It is true of God's people that - 'united, they stand; divided, they fall.' Until our hearts and minds are together we will be divided!
With prayers and blessings!
Msgr. Xavier
We have received "Best of Longview 2016 - 2019"
(The Best Place of Worship Award - FOUR Consecutive Years)
This is our Parish Mobile App. St Matthew Longview (in Playstore or AppStore)
Please install it on your smart phone. Let us be in touch with us & the World! Thanks.