Weekly Message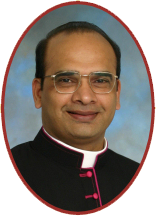 Empowering your Power
Dear brothers and sisters,
We celebrate 'The Pentecost,' the birthday of the Church. The Father in Jesus sent the Holy Spirit on all His believers to give birth to His Church. In the scriptures, this was celebrated in four different names: The day of Pentecost (Acts 2:1; 20:16); the feast of Harvest (Ex.23:16); the feast of weeks, celebration of 50th day (Ex.34:22; Dt.16:10); and the day of the Firstfruits (Num.28:26). (Pentecost)
Once a family was leaving for vacation. The car was loaded with everyone's baggage. When the driver stepped on the starter nothing happened. Seeing that car would not start, the wife spoke up, "I had that thing under the hood removed so we could carry more baggage. Do you suppose that has anything to do with it?" Yes, lady, that has everything to do with it! Without the power of the engine you can carry no baggage at all.
It is very strange that the leaders or the members collectively and individually have not discovered that we cannot get anywhere in life without the power of the Holy Spirit. That is why Jesus said to wait to receive the Holy Spirit. Once they were empowered, they were together with one accord (Acts 2.)
Babel was a significant event in the earth's history. All people spoke one language up until then. They understood each other too. However, they lived for their name and fame; not for God's glory. This applies to all believers, you and me. If you are confused, wait for the Spirit's power. God is no respecter of persons: (Acts 10:34.) He gives the Holy Spirit to anyone who asks (Lk. 11:13.) Therefore, our personal Pentecost powers us up to power our life and the world. (Zechariah 4:6.) Let us be open to the guidance of the Holy Spirit and be empowered to live your life.
Blessings!
Msgr. Xavier
We have received "Best of Longview 2016 & 2017"
(Places of Worship Award - TWO Consecutive Years)
This is our Parish Mobile App. St Matthew Longview (in Playstore or AppStore)
Please install it on your smart phone. Let us be in touch. Thanks.
Bishop's Letter to NON-Catholic Christians