Weekly Message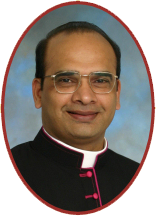 Mary: The Vessel of Christ
Dear brothers and sisters,
About 500 years before Jesus was born, a man named Buddha came along. He established a religion, Buddhism; Mohammed was born about 500 years after Christ. He established a religion we now call Islam. Many people gathered around them and tried to live by their teachings. But before they were born, nobody ever said: "Hey, somebody is going to come along and he will come from this or that family. These are his credentials." But, Mary and Jesus didn't just pop up in history. Long before they were born, God put His stamp of approval on them, so that all of the Old Testament looked forward to the birth of Mary and the birth of a boy in Bethlehem.
For His Son to be born, God prepared a sinless virgin to be born of the sterile couple, in their old age [beyond human effort to conceive.] We celebrate that day today, the Immaculate Conception of Mary. This was planned by God; foretold by the prophets even from the book of Genesis.
In Dec. 1854, Pope Pius IX issued "Ineffabilis Deus," and declared that "from the very beginning, and before time began, the eternal Father chose and prepared for his only-begotten Son a Mother, free from all stain of sin, in whom the Son of God would become incarnate."
Mary was given this "singular grace and privilege" so that Christ may enter the world through a sinless vessel. And the glorious grace of God filled Mary's life from the beginning. The Immaculate Conception is meant to emphasize the fact that God had been preparing humanity for the coming of Christ, for the Incarnation. And he prepared Mary in a particular way. Let us celebrate with our Blessed Mother, her Conception for redemption in Christ. Wishing you and your family a fruitful advent season.
My prayers and blessings!
Msgr. Xavier
We have received "Best of Longview 2016 - 2019"
(The Best Place of Worship Award - FOUR Consecutive Years)
This is our Parish Mobile App. St Matthew Longview (in Playstore or AppStore)
Please install it on your smart phone. Easiest way to communicate with you & the World!
Thanks.