Weekly Message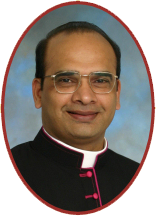 Divine Mercy: The Humble Way
Dear brothers and sisters,
Many of us have heard of Muhammad Ali's boast that in the boxing ring he could "float like a butterfly, and sting like a bee". He knew how to brag in an attempt to psyche out his opponents. But on one particular flight, he says in his book, The Soul of a Butterfly, that the flight attendant asked him to put his seat belt on. He said to her, "Superman don't need no seat belt". She smiled at him and said, "Superman don't need no plane, either."
Some people are full of themselves. "Pride goes before destruction, And a haughty spirit before a fall." (Proverb 16:18) Pride is a dangerous, destructive, deceitful sin that's doing more damage in homes, hearts, and lives than we can imagine. And every one of us wrestles with the sin of pride. More than any other sin, pride holds back renewal - in our land, in our homes, in our work places and in our churches. More than any other sin, pride is destroying relationships. Every character in the bible speaks of pride or humility. Jesus set an example by His life. Humble people are praised, exalted, remembered and honored.
Jesus did not tell us to ignore or deny this problem of pride, but accept it. Why? Most of the time we become the problem; we are the solution to those problems. The best way to handle this damaging and killing virus is by accepting it in humility. Pride is all about "who is right?" and Humility is all about "What is right?"
With a positive attitude and a willing spirit, Jesus said, to speak to the problem and tell it to be moved or gone [Mk. 11:23, Mt. 21:21]. He said, "if you have faith as a mustard seed, you will say to this mountain, move from here to there, and it will move; and nothing will be impossible for you" [Mt. 17:20]. With our little faith and humble and willing spirit, we can overcome the sin of pride and experience the mercy of God, and love from one another.
Blessings!
Msgr. Xavier
We have received "Best of Longview 2016"
(Places of Worship Award)
https://www.dioceseoftyler.org/news/2016/07/st-matthew-catholic-church-receives-2016-best-of-longview-award/
This is our Parish Mobile App. St Matthew Longview (in Playstore or AppStore)
Please install it on your smart phone. Let us be in touch. Thanks.