Weekly Message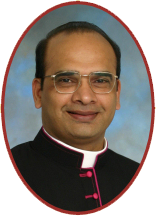 Weak Faith … Weak Prayer
Dear brothers and sisters,
Every Christian lives through inner warfare and inner peace. In order to find peace we are to win the warfare. The Lord says, 'I'm going to be with you; but you need to get out there and fight.' You and I say, "I didn't sign up for this." It's what the Lord signed you and I up for.
Moses said to Joshua to fight against the enemies, Amalekites, while he prays, raising his hands, with the rod of God. When he was weary, Aaron, his brother, and Hur, his brother-in-law, set a rock for Moses to sit upon; and when his hands were tired, they both held his hands up in prayer. This is what Jesus says, "It is necessary for us to pray without becoming weary." Therefore, PUSH [Pray Until Something Happens]. Weak faith is weak prayer. Seek help! Or Reach out to help others.
Jesus told Peter "Go and strengthen your brothers." [Lk 22:32] Paul traveled and strengthened all the disciples. [Acts 18:33] He imparted some spiritual gifts to strengthen. [Rom.1:11] Timothy was sent to strengthen and encourage. [1Thess. 3:2] This is what we do as Christians. We strengthen and hold up each other's arms.
The prayer power has never been tried to its full capacity. If we want to see mighty wonders of divine power and grace wrought in the place of weakness, failure and disappointment, let us answer God's standing challenge, "Call to me, and I will answer you; I will tell you wonderful and marvelous things that you know nothing about.' [Jer. 33:3]
You and I are called to fight the good fight like Joshua, while Jesus, Holy Spirit, your priest, your family and friends praying for you. Our help is from the Lord.
Therefore, let us pray, strengthen, and encourage one another.
My prayers are always for you!
Msgr. Xavier
We have received "Best of Longview 2016 - 2019"
(The Best Place of Worship Award - FOUR Consecutive Years)
This is our Parish Mobile App. St Matthew Longview (in Playstore or AppStore)
Please install it on your smart phone. Let us be in touch with us & the World! Thanks.