Weekly Message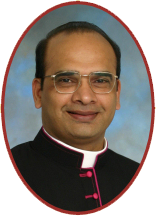 Divine Mercy: Saves the Seeking
Dear brothers and sisters,
Everything God created needs to fulfill His purpose. This "seeking or searching or longing or yearning" is in all of us. (Psalm 62; 63:1; 84:2). Zacchaeus, though he was considered as a 'sinner-in-chief', was seeking to see Jesus. Jesus said that he came to seek the lost. (Lk. 19:10; Mt. 18:11) Jesus found in Zacchaeus:
Physical Identity: The sad reality in our western culture is that we often assign value to a person based on physical appearance: tall, short, pretty, have red or blonde hair, bald, ugly, fat, rich, poor, etc. But for Jesus none of these are important. While others saw just a tax collector, Jesus sought to build a relationship with him by going to Zacchaeus' house for dinner. He calls you by name!
Spiritual Curiosity: God has set eternity in our hearts (Ecc. 3:10); a desire to connect to the Creator. Some fight it, ignore it, and deny it, but the Scripture is clear. Human beings are spiritual beings and no amount of worldly success or possessions can satisfy the deepest longing of the soul to know God. It happened to Zacchaeus. Let our spiritual curiosity seek Him. You seek, Jesus will find you!
Supernatural Destiny: Destiny is the driving force that shapes and defines a person's life. Zacchaeus' life was distinctly different after meeting Jesus. He made bold decisions and declaration. His actions reveal a life transformed by an encounter with Christ. Jesus declared that "Zacchaeus and his household was saved."
"To reach the fruit of a tree, you must go out on a limb." That is what Zacchaeus did. Follow his example by not allowing anything to prevent you from receiving all that God desires for your life. If you seek Him, He will find you and grant your desires. Blessings!
Msgr. Xavier
We have received "Best of Longview 2016"
(Places of Worship Award)
https://www.dioceseoftyler.org/news/2016/07/st-matthew-catholic-church-receives-2016-best-of-longview-award/
This is our Parish Mobile App. St Matthew Longview (in Playstore or AppStore)
Please install it on your smart phone. Let us be in touch. Thanks.