Weekly Message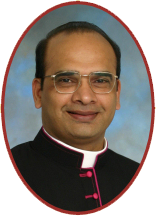 Path to Eternal life: Our Neighbors
Dear brothers and sisters,
The parable of the Good Samaritan has impacted and influenced every area of our world – personal, family, communities, businesses, children, youth and adults. It is so powerful. Now, the archeologist, Yitzhak Magen, found the inn, renewed it, and made it a museum in the 1990s. It does appear to be not a parable but an incident!
Jesus was asked by a lawyer, "What must I do to enter eternal life?" Jesus narrated this event from His life – puts the Samaritan as the hero and teaches us to be neighbors to one another. The Samaritans were not simple outcasts; they were the despised enemies of the Jews. It is a long history.
The event offers … a vision of life rather than death. In 2 Chronicles 28, the prophet Oded convinced the Samaritans to aid their Judean captives. It insists that enemies can prove to be neighbors, that compassion has no boundaries, and that judging people on the basis of their religion or ethnicity will leave us dying in a ditch. Thus it clears the concept of 'a manageable notion of neighbor;' and a neighbor cuts across national, ethnic, religious and political boundaries to encompass everyone. In short, "A neighbor is someone whose needs you have the ability to meet."
Who are we in our day-to-day living? The robbers rob him selfishly, leave him dying and abandon him; the priest and Levite harm him by inaction, leave him unhelped and neglected him; but the Samaritan shows compassion, cared for him, took him on his animal, finds a shelter, pays for him and promises to return. He is more attuned to the Law of Moses [Lev. 19:18] than the Jewish religious leaders. In short, our path to eternal life is to cross over racial, religious, national, ethnic and political prejudices, and to love and care for others as we love and care for ourselves. Our neighbors are our road to eternal life!
With prayers and blessings!
Msgr. Xavier
We have received "Best of Longview 2016 - 2019"
(The Best Place of Worship Award - FOUR Consecutive Years)
This is our Parish Mobile App. St Matthew Longview (in Playstore or AppStore)
Please install it on your smart phone. Let us be in touch with us & the World! Thanks.