Weekly Message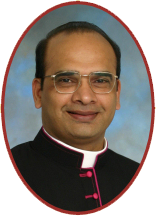 Wealth: God's, Other's & Mine
Dear brothers and sisters,
We are all wealthy people! Wealth is defined as 'a suitable accumulation of resources and possessions of value.' This includes adequate physical possessions with a purpose, to live and flourish as a human being created in the image of God. This shows the spiritual distinction between "wealth" and "riches." 'Riches' correspond with self-indulgent hearts while the 'wealthy' see themselves as stewards of God's gifts and manage their possessions in ways that honor him. For example, the riches of the young ruler (Luke 18:18-25) skewed his thinking and blocked his union with Christ but Lydia, a dealer in expensive purple cloth (Acts 16:14), worshipped the Lord with an open heart and was baptized.
We all have a desire to become rich in the world. The devil knows we are often susceptible to the temptation to take shortcuts to try to get rich. Serving the devil always leads to ruin. "In the house of the just there are ample resources, but the earnings of the wicked are in turmoil." [Proverbs 15:6] This is proven in the world by several rich and wealthy people.
John D. Rockefeller: "I have made many millions, but they have brought me no happiness." W.H. Vanderbilt: "The care of $200 million is enough to kill anyone. There is no pleasure in it." Andrew Carnegie: "Millionaires seldom smile." Henry Ford: "I was happier when I was doing a mechanics job." This reveals what the worldly wealth can bring us.
Therefore, being wise in the world to make wealth at the cost of others does not give peace but troubles.1 Tim. 6:17-18 offers divine instructions for the wealthy among us: "Be rich in good deeds, be generous and be willing to share and care." Be wealthy in the eyes of God and in virtues, and serve Him.
Blessings!
Msgr. Xavier
We have received "Best of Longview 2016 - 2019"
(The Best Place of Worship Award - FOUR Consecutive Years)
This is our Parish Mobile App. St Matthew Longview (in Playstore or AppStore)
Please install it on your smart phone. Let us be in touch with us & the World! Thanks.