Weekly Message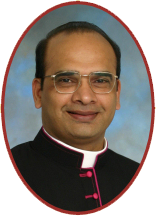 If God is Silent...Do you shout!?
Dear brothers and sisters,
Some people become silent when they get angry or upset; or when they disagree with something. Some people are silent taking time to think before they speak, they are slow to speak and their words are seasoned with salt. Some people are silent because they have tuned you out; or because they do not want to laugh in your face. When God is silent … what do we do?
A woman was dying in a hospital bed. Her two daughters were by her side. All day one of the daughters had been praying vigorously and passionately. But when the family's priest came to the hospital room, one of the daughters whispered to him, "I just can't seem to get my prayers past the ceiling." How many times have we stood before a silent God and wondered why our prayers were not answered? The bible has hundreds of answered prayers and unanswered prayers.
As someone said, "God's silence is as much a sign of God's presence as of Gods absence. That divine silence is not a void that needs to be filled with superfluous vocalizations, but a glorious mystery that must be entered into."
The Canaanite woman called out to Jesus. Jesus was silent; and when he answered, His answer was not only "no," but also was insulting. But she did not accept "no" for an answer. All the more she shouted to Him and did him homage, saying, "let me be the dog to eat the scrap that falls from the master's table." (Mt. 15:21-28) She entered into that glorious mystery.
We may have to enter into that mystery with and in faith and shout to Him, call out to Him to get what we need. Our "little faith" becomes "great faith" and makes the silent God to speak to us and answer all our prayers and needs. 'Call on Him, He will hear you' (Jer. 33:3.)
Blessings!
Msgr. Xavier
We have received "Best of Longview 2016 & 2017"
(Places of Worship Award - TWO Consecutive Years)
This is our Parish Mobile App. St Matthew Longview (in Playstore or AppStore)
Please install it on your smart phone. Let us be in touch. Thanks.
Tribunnel News Letter - July 2017
Msgr. Xavier's Prayer at The Texas House of Representatives