Weekly Message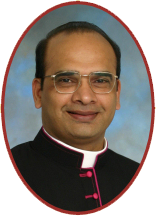 Persist for a Purpose or Promise!
Dear brothers and sisters,
In God's plan, we all have a purpose; because He has promised a blessedness. We are of more value than many sparrows; He created and crowned us with glory and honor. In order to preserve it, we need to persist in this life for a purpose or for His promise. How?
In the world there is always 'growing pain' for the good; and 'destructive pain' for the bad. Why? Hostility is the general attitude of the world (Titus 3:3), especially toward the gospel or the godly lives. Jesus did say, "Behold I send you out as sheep in the midst of wolves; so be shrewd as serpents and innocent as doves."
There was a man who did not know what was wrong. He seemed to fail at everything he attempted. His parents had been wealthy, so he had inherited a considerable amount of money. However, he failed everything he tried on his own. Now he was almost broke, and his wife was leaving him because (as she screamed at him): "You are a jellyfish failure." In the final analysis, his trouble was found to be one thing. Fear!
Therefore, Jesus warns us against fear. Fear is "False Evidence Appearing Real." It's false. Jesus did not promise a life without conflicts to live his purpose; where all problems are resolved and the tension is relieved, and we go on to live happily ever after. Life just doesn't happen that way. Problems and difficulties never completely disappear from our life or are cleanly resolved. They are always a part of the life we lead.
What is your purpose in life? What is the promise you believe in God's word? To live that life, what is that motivates you or controls you? Fear or Faith? Let our faith in God direct our lives and be persistent in it!
God bless!
Msgr. Xavier
We have received "Best of Longview 2016 & 2017"
(Places of Worship Award - TWO Consecutive Years)
This is our Parish Mobile App. St Matthew Longview (in Playstore or AppStore)
Please install it on your smart phone. Let us be in touch. Thanks.
Msgr. Xavier's Prayer at The Texas House of Representatives