Weekly Message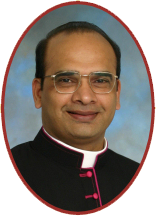 Banquet for Believers
Dear brothers and sisters,
The Star Hotels have 100+ rooms, with a lock on each door. It takes 100+ keys to open those 100+ doors. However, the person in charge had a passkey. That single key had the ability to open the doors to every room in the hotel. Wisdom is like a pass-key that will unlock difficult decisions and open doors for you. The Lord is the only one who has the key, but He'll loan it to you, if you ask for it. You cannot learn Godly wisdom in a University and get a degree in it. It can only come to a heart in a right relationship with God, and seeking it. Socrates said, "The only true wisdom is in knowing you know nothing."
This weekend, we are invited by Wisdom in the home of seven columns (7 gifts) and Jesus, to forsake our foolishness, mistakes, misunderstanding and quarrels, and to share their banquets and be wise. This is to create a right relationship with Jesus and with one another and live wisely. "If any of you lacks wisdom, let him ask of God, who gives to all men generously and without reproach, and it will be given to him." (James 1:5)
It is important that we seek God's wisdom for every decision we make, regardless of how small it seems to us. Small things have a big impact when they are added together. When we add to our wisdom and understanding, it grows stronger and stronger.
Jesus invites us to forsake our ignorance, foolishness, unbelief, and to eat his body and drink his blood, be wise remaining in Him and He in us. Whenever we come to share His body and blood, we become wise like Him, and understand the will of God in every little thing we do and have a greater impact in life.
Prayers and Blessings!
Msgr. Xavier
Abuse Crisis: A statement from Bishop Strickland (English)
Crisis del Abuso: Declaracion de Obispo (Spnaish)
We have received "Best of Longview 2016 , 2017 & 2018"
(The Best Place of Worship Award - THREE Consecutive Years)
This is our Parish Mobile App. St Matthew Longview (in Playstore or AppStore)
Please install it on your smart phone. Let us be in touch. Thanks.
Bishop Joseph Strickland Letter to NON-Catholics