Weekly Message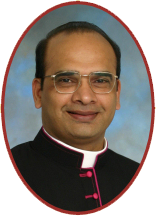 Sheepish Shepherds Don't Shepherd
Dear brothers and sisters,
Today, we celebrate the "Good Shepherd Sunday" or the "Vocation Sunday." After the Resurrection, Jesus reappeared and assured His presence, power and purpose. He made them Shepherds of His flock - to care, to love, to serve and to feed - while sharing the Good News of salvation. This mission is also extended and entrusted to us. We can't be sheepish about it.
A 1st-grader stood in front of his classroom to make a speech about "What I want to be when I grow up." He said in his most grown up voice, "I'm going to be a lion tamer & have lots of fierce lions. I'll walk into the cage and they will roar." His passion was obvious and his imagination allowed him to see the scene. He paused for a moment, thinking through what he had just said and then added, "But of course, I'll have my mommy with me." Of course, if you have the Good Shepherd with you, we do the shepherding with him and like Him.
One of the most amazing aspects of shepherding is the presence of the Shepherd among the sheep. This applies to all the parents, leaders, priests and bishops; and anyone who has someone to care, to love, to serve and to feed. As shepherds, all of us sometimes feel isolated, lonely, pressured, challenged, and criticized; but never be like a sheep-dumb, wandering, stray, clueless, filthy, eat things they shouldn't and follow wrong advice; and become sheepish not a shepherd.
A sheep should not follow another sheep; or a sheepish shepherd. A shepherd who does not have God's Word is just plain stupid, selfish, their flocks scatter (Jer. 10:21). Let us learn from Jesus to be a shepherd who loves, cares and serves! Pray for vocations!
Blessings of Easter!
Msgr. Xavier
We have received "Best of Longview 2016 & 2017"
(Places of Worship Award - TWO Consecutive Years)
This is our Parish Mobile App. St Matthew Longview (in Playstore or AppStore)
Please install it on your smart phone. Let us be in touch. Thanks.
Bishop's Letter to NON-Catholic Christians