Weekly Message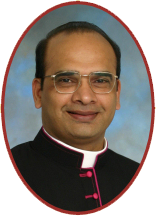 Seeds of Fathers Faith
Dear brothers and sisters,
I wish all the fathers and grandfathers a happy father's day. May you be blessed by God, for being the father you are to your children and grandchildren!
God is called "Our Father." He always wants us to be a fruitful people in our life. Every father on earth dreams about his children being 'someone' greater than himself. Just like in Ez.17 the Lord says, "I will plant a tender shoot on a high mountain to put forth branches and bear fruits". It's not enough to dream great things for your children, but to share and inspire them with your practical life. A study reveals: "It is the religious practice of the father of the family that, above all, determines the future attendance at or absence from church of the children."
The children love their mothers, but want to be like their fathers. He is their hero. Therefore, they watch the dad through the corner of their eyes – his interactions with their mom, siblings, visitors, parents, in the superstores, etc. These observations influence their future. It is scary, isn't it?
It is time for fathers to return to honorable manhood and reconsider their priorities and realign them with God's commands, decrees, and laws, teaching these things to your children "when you sit in your house, and when you walk by the way, when you lie down, and when you rise." (Deut. 6:7)
Let your child SEE that you put the seed of faith to the ground to grow, to nurture, to live and bear fruits that will make you to feel proud of your children. Happy fathers day!
Prayers and Blessings!
Msgr. Xavier
We have received "Best of Longview 2016 , 2017 & 2018"
(The Best Place of Worship Award - THREE Consecutive Years)
This is our Parish Mobile App. St Matthew Longview (in Playstore or AppStore)
Please install it on your smart phone. Let us be in touch. Thanks.
Bishop's Letter to NON-Catholic Christians