Weekly Message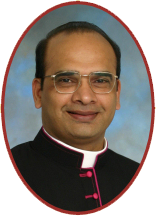 Possessed by 'The Good' or the goods
Dear brothers and sisters,
In Greek mythology, Dionysus allowed Midas to express a wish, promising to fulfill it. Midas, without thinking, asked that everything he touched would change into gold. Thus, it happened but from that time, he was no longer in a position to either eat or drink. He had not thought that this wish was not actually a blessing, but a curse. This kind of story reflects our reality! 'Betting life on goods rather than on The Good'!
King Solomon was like us (Wis. 7:1-3). He became the wisest man (1Kings 4:29-30). He prayed and the wisdom was given to him (Wis.7:7). Because he prayed to govern and make right judgements (1Kings 3:4-15), everything else was given to him. He asked for 'The Good, the Wisdom, the Prudence,' and all the goods were granted to him. Eventually, he misused the Good and the wisdom; the goods possessed him, he failed to obey God!
The rich man called Jesus "Good Teacher;" he had all the goods and riches; but he didn't possess them, the goods possessed him. He was a good man, followed every law of the Lord; lived a blameless life; but he suffered from spiritual infirmity. He was man of goods; but not of 'The Good.'
In our current day materialistic culture, when we worship possessions and fame over God, we are headed for a fall. If we want to be blessed more with riches, learn from King Solomon, the rich man and the psalmist, "Blessed is the one who fears the Lord, who greatly delights in his commands" (Ps 112:1). He lacks nothing in his home! Jesus looks into our eyes, with affection, satisfaction and expects us to make a decision.
Are you possessed by your goods or 'The Good' that gives hundredfold blessings? Let us pray for wisdom to do the right thing, every day.
Msgr. Xavier
We have received "Best of Longview 2016 , 2017 & 2018"
(The Best Place of Worship Award - THREE Consecutive Years)
This is our Parish Mobile App. St Matthew Longview (in Playstore or AppStore)
Please install it on your smart phone. Let us be in touch. Thanks.
Bishop Joseph Strickland Letter to NON-Catholics