Weekly Message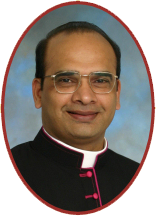 Patience Reveals Your Respect ...
Dear brothers and sisters,
Patience is a virtue. It's a state of being between an experience and a reaction. If you're trying to be patient with yourself, others, or life, it always involves the experience of dealing with obstacles. By cultivating a practice of patience, you're able to let go of things outside your control and live with less stress, anxiety, and frustration. It's not an easy practice, but it's doable and livable.
…to yourself: We are both spiritual and physical being. We have unbound and time-bound presence within us. Both seek to express themselves. In these expressions, there is constant struggle. Practicing self-awareness of these two expressions teaches you patience with yourself.
…to others: It's a different challenge. Other people are always acting, thinking, and feeling. It's their freedom to express themselves. You are not in control; they are not always disagreeable. So become less reactionary. You have a choice in how you allow it to affect you. Your mind and body may jump to negative notions, response and reactions; but be in control of your reactions.
…to Life: Gaining patience can be transformative to your overall life experience. Practicing patience shifts your attention away from the stress and frustration. Acting with patience is a way of telling life that you are in charge. You are in no hurry, there is no distress - only peace and confidence in your truth. In short, exhibiting patience shows that you have a high moral standard in life.
The Lord had been patient with the people of Israel for 400+ years until they cried out to Him. He sent Moses to lead them. Jesus invites us to be patient and DO OUR BEST for our brothers and sisters until they turn to the ways of God.
Wishing you a fruitful Lenten season!
Msgr. Xavier
For Pictorial Directory(click on the link below)
https://booknow-lifetouch.appointment-plus.com/yvdmbgzk/ [booknow-lifetouch.appointment-plus.com]

We have received "Best of Longview 2016 , 2017 & 2018"
(The Best Place of Worship Award - THREE Consecutive Years)
This is our Parish Mobile App. St Matthew Longview (in Playstore or AppStore)
Please install it on your smart phone. Let us be in touch with us & the World! Thanks.