Weekly Message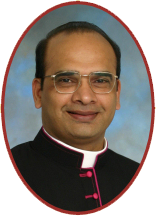 Putting the Pieces Together
Dear brothers and sisters,
A scientist gave his 7-year-old son a puzzle of a world map saying, "You like puzzles! Take this world map and see if you can fix it yourself." He was confident the child would take many hours to assemble the map, but within a hour, he heard the voice of the son calling him "Dad, I'm done." To his surprise, the map was perfect and all the pieces were in place! "How did you DO that?" "Well, dad," the boy answered, "I don't know the world, but I saw on the other side a picture of a man. I flipped all the pieces and started to fix the person (the face of Jesus). And when I fixed the man, I turned it over and saw the world had been fixed as well."
Jesus prepared His followers individually and as a group to complete His mission. He gave them a bigger picture of His Messianic plan to save the world - a cover box with His face on one side and the world map on the other side. He taught them a process to put the puzzles together: to commit their lives, to die to themselves, taking up the cross, and to follow Him to complete His Messianic Mission.
They did not understand. This was puzzling. They were trying to solve this life puzzle by themselves; by trying to be the smartest, greatest, first, oldest, powerful, etc. Jesus gave them a clue: by putting a child as an example. In fact, that was 'the solution' to their puzzle. Just like a child to receive and be received; fit-in and be fitted in and be humble. Thus, they will find Jesus, and the Father who upholds your life. Thus the Messiah puzzle is solved when the pieces are put together. We see the face of Jesus and complete the Messianic puzzle.
Where do you fit-in in God's Messianic plan as an individual or a Christian or as a family? Without you it's not complete.
With prayers and blessings!
Msgr. Xavier
We have received "Best of Longview 2016 , 2017 & 2018"
(The Best Place of Worship Award - THREE Consecutive Years)
This is our Parish Mobile App. St Matthew Longview (in Playstore or AppStore)
Please install it on your smart phone. Let us be in touch. Thanks.
Bishop Joseph Strickland Letter to NON-Catholics