Weekly Message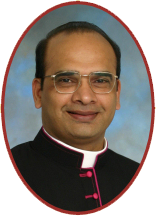 Shepherds are Herders or Hoarders or Hunters?
Dear brothers and sisters,
The word shepherd is filled with several meanings - revealing the person, position, power, dignity, function, responsibility, relationship, commitment, etc. We read in the Old Testament, several shepherds or leaders did not live up to the word "shepherds" with dignity and responsibilities; but lived as hunters – selfishly scattering the sheep/people and not caring for them. This happens even today in our times among our church and state leaders and even in our families. "Divide and rule policy!"
Hunting and gathering was a primitive life-style and the instinct of human beings. They hunted for food; we hunt for food and things and hoard them in our homes and garages. Herding is an act of bringing animals / people together into a group, maintaining the group, and moving the group from place to place. People whose occupation is to herd, add 'herd' to their names, the name of the animal they herd to describe their occupation (shepherd, goatherd, cowherd). Jesus calls Himself "Good Shepherd." Why? He sees the people as 'sheep without a shepherd'; he herded them, showed compassion and taught them many things.
Today, not only by instinct, but also by our call, we are to be a shepherd to each other. Our homes are without a father, a mother, a friend, a husband, a wife. Many of them get lost or led by the wrong people, when you fail to be for them, they are like sheep without a shepherd. Jesus expects us to be 'human-herds' or 'people-herds'.
Thousands of people each day wake up with fear and anxiety. If we do not have time to hear them, they will be hunted by someone else and be lost. Let's be shepherds!
Prayers and Blessings!
Msgr. Xavier
We have received "Best of Longview 2016 , 2017 & 2018"
(The Best Place of Worship Award - THREE Consecutive Years)
This is our Parish Mobile App. St Matthew Longview (in Playstore or AppStore)
Please install it on your smart phone. Let us be in touch. Thanks.
Bishop Joseph Strickland Letter to NON-Catholics