Weekly Message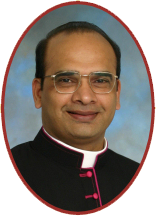 Sharing the Life of God the Father
Dear brothers and sisters,
I wish a blessed Father's day to all the fathers; and we together thank God the Father on the Solemnity of the Holy Trinity, for His fatherhood.
There are two types of attributes to God: communicable and non-communicable. Non-communicable attributes are true of God and God alone – omniscient, omnipotent, omnipresence, immutable, infinite, transcendent, sovereign, eternal, etc. Communicable attributes are those attributes that are shared by us – merciful, gracious, holy, just, truthful, love, faithful, wise, perfect, etc. God communicates these attributes with us; and we share and communicate in our families.
In the Old Testament, God is portrayed as one who is a harsh, unforgiving, vindictive and punishing God; but Jesus revealed that God the Father is loving and forgiving; slow to anger and rich in mercy. In Christ, we are children of God the Father. He revealed the depth of the Trinitarian mutual love and invites us to follow their example in our families.
A father and son arrived in a small western town looking for an uncle whom they had never seen. Suddenly, the father, pointing across the square to a man who was walking away from them, exclaimed, "There goes my uncle!" His son asked, "How do you know when you have not seen him before?" "Son, I know him because he walks exactly like my father." If we walk in the Spirit, the world should know us by our walk that we are children of God the Father.
As we honor our fathers, let us honor our fathers truly by the way we live our lives; and make our fathers feel proud of our decisions. Let us pray with the fathers today that their dreams for us come true. Remember all the children who grow without their fathers in their lives. Someone said, "It may be hard on some fathers not to have a child, but it is so much harder on a boy or a girl not to have a father." You know it! Happy Father's Day!
With Prayers and blessings!
Msgr. Xavier
We have received "Best of Longview 2016 - 2019"
(The Best Place of Worship Award - FOUR Consecutive Years)
This is our Parish Mobile App. St Matthew Longview (in Playstore or AppStore)
Please install it on your smart phone. Let us be in touch with us & the World! Thanks.