Weekly Message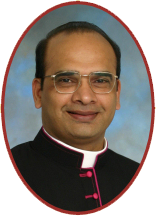 Immaculate Conception and
Protecting the Innocent
Dear brothers and sisters,
This week we are celebrating two great and importance feasts of the Catholics: The Immaculate Conception of Mary, and Our Lady of Guadalupe. These two feasts proclaim the message of protection of the unborn and the innocent.
Pope Pius IX issued an apostolic constitution, known as the Ineffabilis Deus, on December 8, 1854. This document clarified the importance of the Immaculate Conception in the Catholic Church; and the Blessed Mother confirmed it by her own words, "I am the Immaculate Conception" to Bernadette on March 25, 1858 at Lourdes. She was conceived without original sin, to give birth to Jesus, the Son of God (Lk.1:42-43).
She also appeared to Juan Diego on Dec. 9th and 11th, with the name "Guadalupe," which means, "She who breaks, stamps or crushes the serpent," at the time the Aztec Indians were involved in a satanically inspired Aztec religion which involved human sacrifice. Mary's appearance also put an end to the worship of stone gods and the ritual of human sacrifice; and led to the conversion of 6,000,000 Aztecs to the Catholic Faith.
We pray for Mary's help today to bring an end to the human sacrifice of God's children through abortion and to convert non-believers. Our Lady of Guadalupe is also called the Patroness of the Unborn. The girdle or bow around her waist is a sign of her virginity; The high position of the bow and the slight swelling of the abdomen show that the Lady is "with child." All these encourage us to understand the plan of God for us (Ps 139:13-16, Jer 1:5) and the assistance given by our Mother Mary. So, pray often: "O Mary conceived without sin, pray for us who have recourse to Thee".
Msgr. Xavier
We have received "Best of Longview 2016 , 2017 & 2018"
(The Best Place of Worship Award - THREE Consecutive Years)
This is our Parish Mobile App. St Matthew Longview (in Playstore or AppStore)
Please install it on your smart phone. Let us be in touch. Thanks.
Bishop Joseph Strickland Letter to NON-Catholics