Weekly Message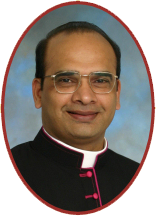 Drawing Down Divine Mercy
Dear brothers and sisters,
I wish you and your family a Joyous Easter, fullness of peace and blessings of the Risen Lord Jesus!
This is the Divine Mercy week. The Risen Lord seeks His disciples who were lost without Him to show them His mercy. Mercy is "compassion or forgiveness shown toward someone whom it is within one's power to punish or harm."
The message of Divine Mercy is: "God loves us – all of us. And, he wants us to recognize that His mercy is greater than our sins, so that we will call upon Him with trust, receive His mercy, and let it flow through us to others." Thus, all will come to share His joy.
A shipwrecked man managed to reach an uninhabited island. There, to protect himself against the elements and to safeguard the few possessions he had salvaged, he painstakingly built a little hut from which he constantly and prayerfully scanned the horizon for the approach of a ship. Returning one evening after a search for food, he was terrified to find the hut completely enveloped in flames. Yet by divine mercy this hard affliction was changed into a mighty advantage. Early the following morning he awoke to find a ship anchored off the island. When the captain stepped ashore, he explained, 'We saw your smoke signal and came.' Everything the marooned man owned had to be destroyed before he could be rescued. We may have to sacrifice what we are proud of to experience His mercy.
St. John Paul said, "a simple act of abandonment is enough to overcome the barriers of darkness and sorrow, of doubt and desperation. The rays of Divine Mercy restore hope, in a special way, to those who feel overwhelmed by the burden of sin." We who experienced the Divine Mercy are called to extend it to others in our daily lives. "Blessed are the merciful, for they will be shown mercy." (Mt. 5:7)
Lots of Blessings & Prayers!
Msgr. Xavier
We have received "Best of Longview 2016 & 2017"
(Places of Worship Award - TWO Consecutive Years)
This is our Parish Mobile App. St Matthew Longview (in Playstore or AppStore)
Please install it on your smart phone. Let us be in touch. Thanks.