Weekly Message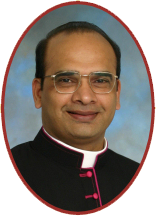 Looking Beyond Your Worries
Dear brothers and sisters,
Life is full of choices. All those who make the right choices feel content, but never without challenges. Sometimes the challenges lead to worries and despair. As someone said, "Worries are like a rocking chair; gets you to nowhere." The worries also can be contagious and affect others.
There was a fellow who was about to jump from a bridge. An alert police officer slowly and methodically moved toward him, talking with him all the time. When the officer got within inches of the man he said, "Surely nothing could be bad enough for you to take your life. Tell me about it. Talk to me." The would-be jumper told how his wife had left him, how his business had gone bankrupt, and how his friends had deserted him. Everything in life had lost meaning. For thirty minutes he told the sad story - then they both jumped.
Most of our worries are about the things that never exist. An exasperated husband asked his wife, "Why are you always worrying when it doesn't do any good?" She said quickly, "Oh yes it does! Ninety percent of the things I worry about never happen."
Jesus tells us "Don't worry – about your life; about tomorrow, about your food or clothing". So… what do we have to do? The answer is "Rest in God alone – consult Him, leave it to Him and trust Him alone." (Psalm 62). Please read this psalm in full, you will be encouraged every minute. Whenever you are lead into worry, just look beyond and look for an opportunity with hope.
Certainly, we all have at sometime or other a doubt as to the goodness of God while facing worry and trouble. We are guided to look over the walls of worries and troubles because we cannot see through it. Faith enables us to look past our circumstances and focus on Christ.
God's blessings to you and your family!
Msgr. Xavier
We have received "Best of Longview 2016"
(Places of Worship Award)
This is our Parish Mobile App. St Matthew Longview (in Playstore or AppStore)
Please install it on your smart phone. Let us be in touch. Thanks.