Weekly Message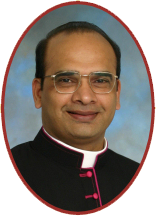 "Never Again" but Live the Covenant
Dear brothers and sisters,
Our God is a covenant maker; not a crisis manager! God pledges to the earth a reliable future based on His Word made to His creation and said "Never again" (Gn. 9:16) would He destroy the earth with flood, but He will protect. From then on, He finds ways and means to save His people.
Every covenant He made was and is put into effect through "a trial by ordeal" for God and for us. For Noah and his family, through the Flood. For Abraham in the form of faith and of the offering up of Isaac. For Moses and Israel the trial was Egyptian plagues and crossing the Red Sea; and spending forty years in the wilderness.
Jesus' baptism was a renewal of the ancient covenant in all its forms with both a plunge and a pledge! At our Baptism, we renew this covenant with a plunge and a pledge; and God says, 'you are my beloved child, I am well pleased.' Covenant lived!
As we begin our Lent, I invite you to keep Gandhi's image of monkeys + a modern one, and pledge your hearts and plunge your lives to Jesus to live the covenantal life and say, "never again - will I see evil, hear evil, speak evil, do evil + post evil (a modern mantra)." This can empower you in ways you never thought possible and change your life forever. Thus, you will be able to renew and live your covenantal love with your spouse, your family and friends! To live this covenant, each needs to do his/her part. You just need the confidence of a child and commitment of a baptized. By doing more good, you will avoid more evil. Be positive, you will avoid negatives.
Are you feeling away from God? Who moved? God is right where you left Him. In a covenant relationship, If you will do your part, God and others will do His/their part. Wishing you a fruitful Lenten season!
Msgr. Xavier
We have received "Best of Longview 2016 & 2017"
(Places of Worship Award - TWO Consecutive Years)
This is our Parish Mobile App. St Matthew Longview (in Playstore or AppStore)
Please install it on your smart phone. Let us be in touch. Thanks.
Bishop's Letter to NON-Catholic Christians