Weekly Message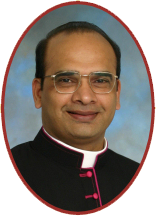 What did Jesus Pray?
Dear brothers and sisters,
After the Resurrection, for 40 days, Jesus confirmed His glorious presence and prepared His disciples for His Ascension. He prayed for them (John 17). He prayed for Himself; He prayed for His disciples and He prayed for us - that the disciples be unified; we be joy-filled; we be protected from Satan and be sanctified in Truth. He did this daily - morning, evening, late night, early morning, and all night. He prayed alone, with his disciples and with the people.
In all this praying, He prayed for knowing the Father's will. He never did anything without consulting Him (Jn. 5:30; Lk.24:42). He prayed for the faith of His disciples (Lk. 22:31-32). He prayed for all believers, then and now (Jn. 17: 20-24). He prayed and prays that we will be with the Holy Trinity. Do you think that His prayers would be effective in our life?
Early African converts to Christianity were earnest and regular in private devotions. Each one reportedly had a separate spot in the thicket where he would pour out his heart to God. Over time the paths to these places became well worn. As a result, if one of these believers began to neglect prayer, it was soon apparent to the others. They would kindly remind the negligent one, "Brother, the grass grows on your path."
The prayer of Jesus becomes effective in our lives only when we practice personal prayer, pray for others and strive to 'live' our prayers daily. Begin the day with God as Jesus did in prayer. He who runs from God in the morning will scarcely find Him the rest of the day. Pray as if everything depends on God, then work as if everything depends on you.
May Jesus' prayer be effective in our lives!
Prayers and blessings!
Msgr. Xavier
We have received "Best of Longview 2016 - 2019"
(The Best Place of Worship Award - FOUR Consecutive Years)
This is our Parish Mobile App. St Matthew Longview (in Playstore or AppStore)
Please install it on your smart phone. Let us be in touch with us & the World! Thanks.